Light+Building 2020
2021-03-15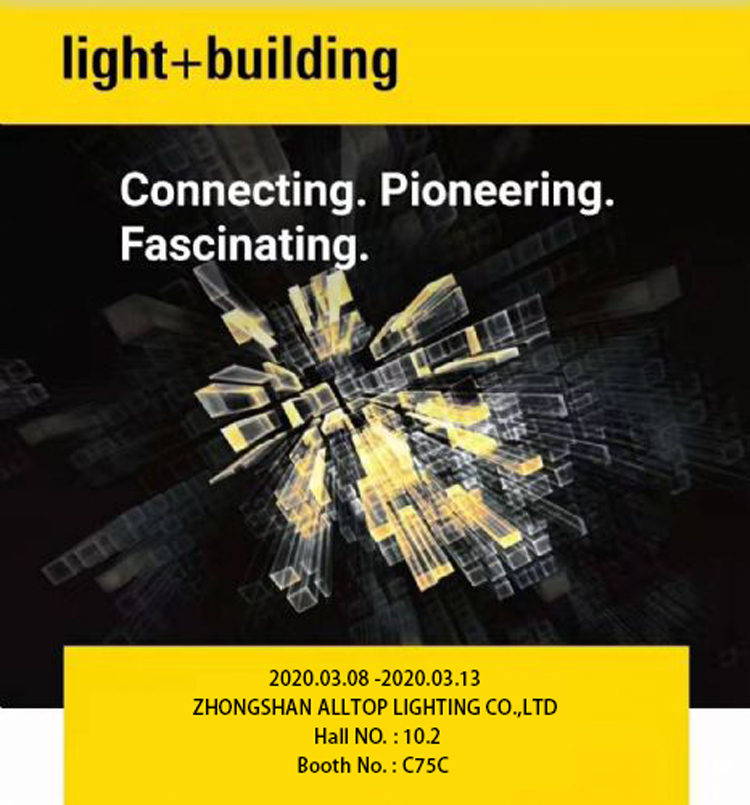 EXHIBITION INTRODUCTION :
The Frankfurt Lighting Fair in Germany is the world's largest lighting exhibition. Since it was first held in 1999, the exhibition has rapidly developed into one of the most influential international exhibitions in the industry.
The successful concept of the Frankfurt Lighting Fair in Germany is based on the current development trend. It is comprehensive, strong and future-oriented. For R & D personnel, planners and business personnel in the lighting industry, the biennial Frankfurt Lighting Fair is the most important exhibition in the international professional field. Here, ALLTOP Lighting will show one of the first companies in the field of new street lamps such as solar street lights, photovoltaic power generation systems, LED Lighting, etc., from professional target customer groups such as senior engineers, company decision makers, wholesalers and retailers to ensure that Learn about ALLTOP Lighting products on the highest-end platform, and more directly understand the latest solutions and the most scientific and technologically guaranteed quality.
From photovoltaic technology and power-driven LED technology to smart power applications through smart meters and smart grids, they will be presented at the show today. This is due to the combination of lighting and network construction service skills, so that exhibitors have the opportunity to show the diversity of goods and technical services, which will contribute to the full development of the energy-saving potential of construction. The success concept of ALLTOP Lighting is based on the development trend of the time. It is comprehensive, powerful, and future-oriented.
Asian Excellence Zone-Highlights of the Expo At the Light + Building Expo 2014, exhibitors from the Asian region will first gather in the Frankfurt exhibition Hall NO .: 10.2 C75C, exhibiting everything within the scope of the exhibition exhibits Lighting products. At this exhibition, the "Asian Boutique District" will still be in the most conspicuous position, gathering elite companies in the Asian region, displaying their high-end products with bright decoration style, thus attracting the audience of professional audiences with their common charm. Come and watch!
The last exhibition had an exhibition area of 24,500 square meters, attracting nearly 2,458 companies from all over the world to participate in the exhibition, and nearly 211,500 buyers came to purchase.
Frankfurt + Germany Lighting and Building Electrical Exhibition Light + Building is organized by Messe Frankfurt, the German exhibition company. The exhibition is held every two years. This exhibition is also a very important platform for companies to open the German market. + Building attracted 2,458 exhibiting companies in the last session, and the number of merchants reached 211,500. The exhibition was held at the Exhibition Centre Frankfurt in Frankfurt, Germany, and the exhibition area reached 245,000 square meters.
Welcome to our pavilion
Exhibition Time: 2020.03.08 -2020.03.13
Exhibitor Name: ZHONGSHAN ALLTOP LIGHTING CO., LTD
Hall NO.: 10.2
Booth No.: C75C
EXHIBITION CRITERIA :
Lighting: professional lighting (solar system, solar street light, flood light, industrial light, lawn light, interior light), decorative lighting, LED / OLED technology, professional light, light source, electric light accessory, lighting control, management, measurement system, Lighting production equipment, instruments, news media
Building electrician: electrical accessories and electrical materials, power supply and distribution equipment and electrical products, power supplies, instruments, meters and tools, electrical energy saving retrofit devices, control systems and dimming equipment, switches, sockets, lightning protection electrical systems and devices
Building automation and smart home: lighting control systems, security and access control systems, audiovisual systems, air conditioning and refrigeration systems, system integration, integrated wiring systems
HALL INFORMATION:
Exhibition Name : Light+Building 2020 
Exhibition Address : Exhibition Centre Frankfurt 
Exhibition Time : 2020.03.08 -2020.03.13 
Exhibitor Name : ZHONGSHAN ALLTOP LIGHTING CO.,LTD 
Hall NO. : 10.2
Booth No. : C75C    
Phone: +86 -760-87 567 562
Email:info@alltopling.com
Website:http://www.alltopgroup.com